Raise your hand if you haven't been able to turn off your teacher juices? Anyone? Anyone? TOTALLY me! I just can't turn it off. I love the freshness of a new year. So, here are a few things to get the ideas flowing for a new year and STOCK-UP on a few freebies along the way!!
As I have attempted to incorporate a Guided Math model into my classroom, I have become a big user of task cards. So I've been quite the collector and producer of these FABULOUS and MULTI-USE little gems!
Some great uses are:
This is how I do the Rotation Review using the same answer document as above.
Pull 8 cards on a given task and put them in stations in the room.
Divide my class up into groups
Set the timer for 10-15 minutes for each station (depending on the skill)
Go!
They simply fill in the numbers for the cards at the station and complete the task. Since I don't have Ipads in my classroom, this also allows me to use QR code task cards at one station only, leaving my cell phone and IPad Mini for them to share. It is a TREAT when they get to that station, and I'm not trying to manage everyone WAITING!
So, using the cards in my Freebie, the student could try doing my Rotations Review with the small group document that I am also sharing with you. Going to the next station of 8 cards for 10 minutes, you could pull some other math skills! How fun would it be to do this at the beginning of the school to year to see where your kids are ALREADY! So much more fun than a worksheet!
Hope you like this sample of my set where I've shared the "Standard Form" cards from the complete set. You'll need to head over to my Facebook Page if you are STARTING here, Like my page (if you haven't already), then you can download this FREEBIE! Click H
ERE
to take you there!
You can enter here to win all THREE of my newest Place Value sets! Scroll below to the Rafflecopter for your chance to win these! Then you will be set to start the fall with three sets to use Whole group, Small Group, Independently, and in Rotations!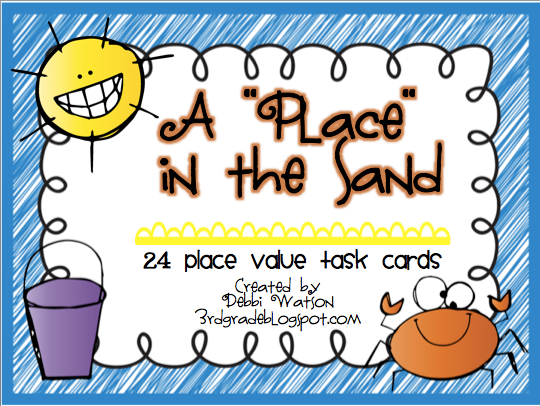 Don't want to wait? WELL....they are 50% off until Sunday night at 9pm CST!!
Click
HERE
to head over to my TpT store or click the images above!
Now, click below to head back for more great ideas and Freebies starting Saturday morning! You can get my freebie NOW!